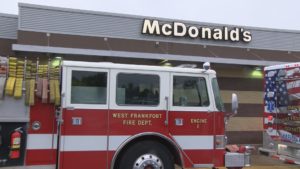 WEST FRANKFORT – West Frankfort McDonald's will host "Fries with a Firefighter" on Thursday, February 23 from 5-7 p.m. 100% of cookie sales and a percentage of overall proceeds will be donated to the West Frankfort Fire Department.
Firefighters will be taking orders, working the kitchen, and sharing a meal with the community during "Fries with a Firefighter." Additionally, firetrucks and other emergency vehicles will be on site for members of the community to tour, and firefighters will be on hand to answer questions.
"It's especially heartwarming to see children in the community getting to sit in a real fire truck and get their picture taken with our firefighters," said Michael Moreland, local McDonald's Owner/Operator. "That's why we do this—to be a place to help make those community connections and raise funds to support our fire department well into the future."
This event serves as an opportunity for community members to converse and interact with emergency personnel outside of an emergency situation.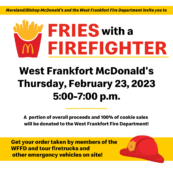 "We're proud to support all that our fire department does for our community in a fun and relaxed atmosphere at McDonald's," said Moreland. "From presenting community safety programs, to providing resources to those in need, and especially for their emergency response services—we are so grateful for all they do."
The Moreland/Bishop Family McDonald's organization owns and operates a total of 21 McDonald's restaurants across southern Illinois and includes Michael Moreland, along with his wife Nicole, parents John and Mary Moreland, and sister Stephanie Bishop and husband Shane.
A portion of all sales through the drive-thru, lobby, and on the McDonald's mobile app during the event will be donated to the West Frankfort Fire Department. Visit www.mcdonalds.com/app to download the McDonald's app for daily deals and points toward free food.
(Information submitted by Bergman Communications.)